Why is "post-lockdown" a good time to buy real estate in Dubai?
14.05.2021

Global home prices rose 5.6% in 2020 despite Covid-19, but not in Dubai. Real estate in the metropolis has fallen in value compared to 2019 by 7.1%.
The demand for real estate, due to the negative dynamics of price growth, will soon increase, which will lead to an increase in prices. Statistical studies of the first quarter of 2021 already show the prerequisites for a rise in prices, so you should think about buying a home at the lowest cost.International real estate consultant Knight Frank reports that urban housing prices worldwide have risen by an average of 5.6% in 2020, up from 3.2% in 2019. Research link.

However, the dynamics of prices in cities is becoming increasingly polarized. The gap between the strongest and weakest-performing cities is now 42% , up from 36% in June 2020.
Emerging real estate markets are among the most successful in sales, including cities in Turkey, although the rise in prices in Turkey is largely due to high inflation and the trajectory of the lira's exchange rate.
US cities climb up the rankings: 14 out of 15 monitored cities now show more than 7% price increases.
There is a correlation between the duration, severity of quarantine restrictions and the increase of price. In cities in North America, Australia and Europe, where there were high rates of infections and lockdowns, there was demand for real estate, but for obvious reasons, the transactions themselves were postponed. This created a deferred demand, which stimulated the rise in prices.
A number of cities in North America, Australia and Asia are performing well, while some cities in Asia are lagging behind. This suggests some correlation with the duration and severity of the lockdowns: those markets that have taken the most stringent measures have stronger constrained demand driven by higher prices.
Of the 15 US cities tracked by the index, 14 are now in the top third of the rankings, posting annual price increases of over 7%. A year ago, only two cities fell into this category.
Conversely, Chinese cities have dropped in price rankings, while Spanish cities have risen. Paris and Hamburg lead with growth between 7% and 8%, while cities in Spain and Italy have average annual growth of -1.5% and 0.6%, respectively.
The future results of the Knight Frank Global Urban Index will depend on a variety of factors, from the speed of vaccine development and deployment, the impact of the third wave of quarantines on major European markets, to the tightening of fiscal stimulus measures, making jobs and mortgages more vulnerable, potentially weakening buyer. Although, on the other hand, in most cases, we expect a return to price increases in the second half of 2021: when travel bans are lifted, transactions across borders will resume and consumer confidence will rise again.
Below you can see the ranking and price growth chart in 2020.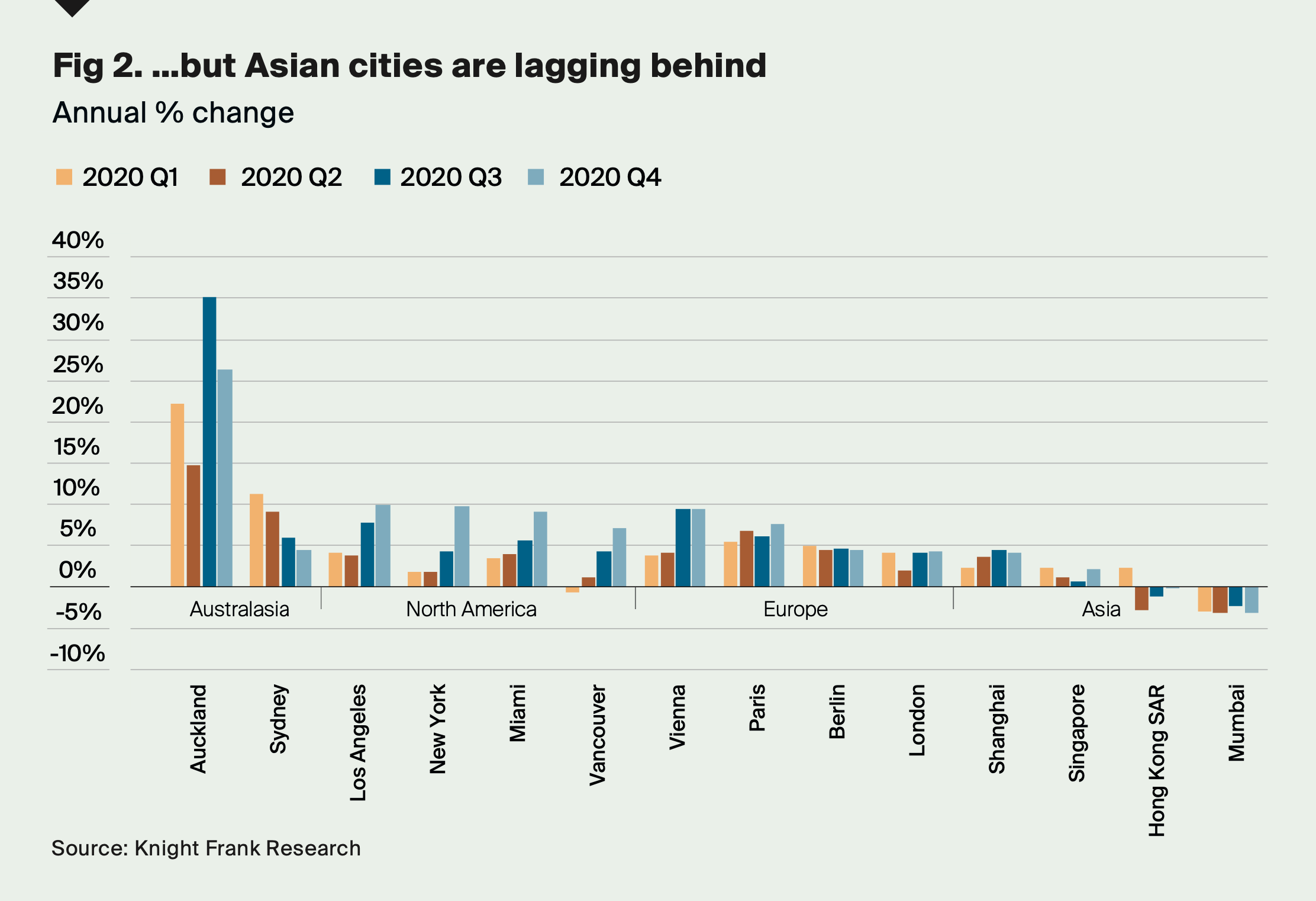 ---